Dyrepark, Gramat - Lot/Parc Animalier de Gramat - Lot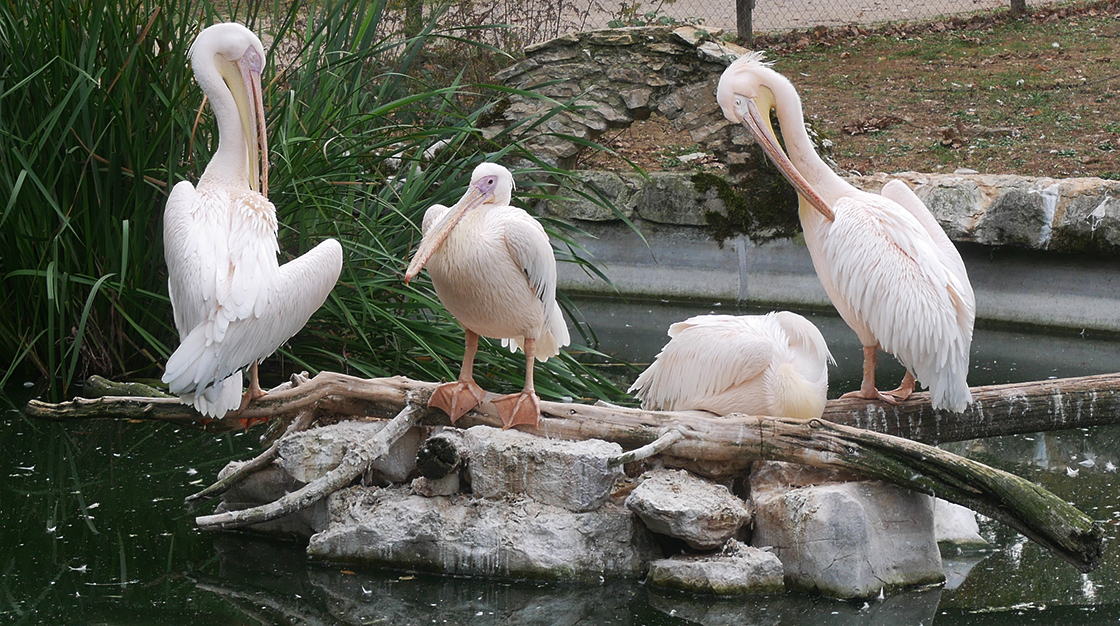 Stor hvid pelikan (Pelecanus onocrotalus)/Great white pelican (Pelecanus onocrotalus).


Vaskebjørn (Procyon lotor)/Raccoon (Procyon lotor).

Stor hvid pelikan

(Pelecanus onocrotalus)/Great white pelican (Pelecanus onocrotalus).

Knopsvane (Cygnus olor), Danmarks nationalfugl.
Mute Swan (Cygnus olor), the national bird of Denmark.

Sort svane (Cygnus atratus) naturlig udbredelse, Australien/Black swan (Cygnus atratus), Australia.

Rustand (Tadorna ferruginea).
Ruddy Shelduck (Tadorna ferruginea).

Rødhovedet and (Netta rufina.)

Redhead duck (Netta rufina).

Bramgås (Branta leucopsis).
Barnacle goose (Branta leucopsis).

Sølvfasan (Lophura nycthemera).

Silve Pheasant (Lophura nycthemera).

Hvid/albino påfugl.
White/albino peacock.

Hvid stork (Ciconia ciconia) og mandarinand (Aix galericulata).
White stork (Ciconia ciconia) and mandarin duck (Aix galericulata).

Faverolles hane.
Faverolles rooster.

Gallisk hane (Lat. gallus = gallisk og hane). Fransk nationalsymbol. Under Revolutionen (1789)

tredjestandens, folkets, symbol på dristighed og stolthed.

The Gallic rooster (lat. gallus = Gallic and rooster), a symbol of the French nation and history. During the Revolution (1789) the symbol of the people and the State.

Sort Kobber Maran høne.

Black Copper Maran hen.

Hvid hane.
White rooster.

Hvid høne.
White hen

.

Perlehøne (Numida meleagris).
Guinea fowl (Numida meleagris).

Fotos fra Gramat, departementet Lot, region Occitania
Photos from Gramat, department of Lot, region Occitani
a



Får med to lam, 2013, bronzestatue, opsat i anledningen af 30-årsdagen for "Fritgående lam fra Quercy".
Sheep with two lambs, 2013, the bronze statue mark the 30th anniversary of "Free-range Quercy Lamb".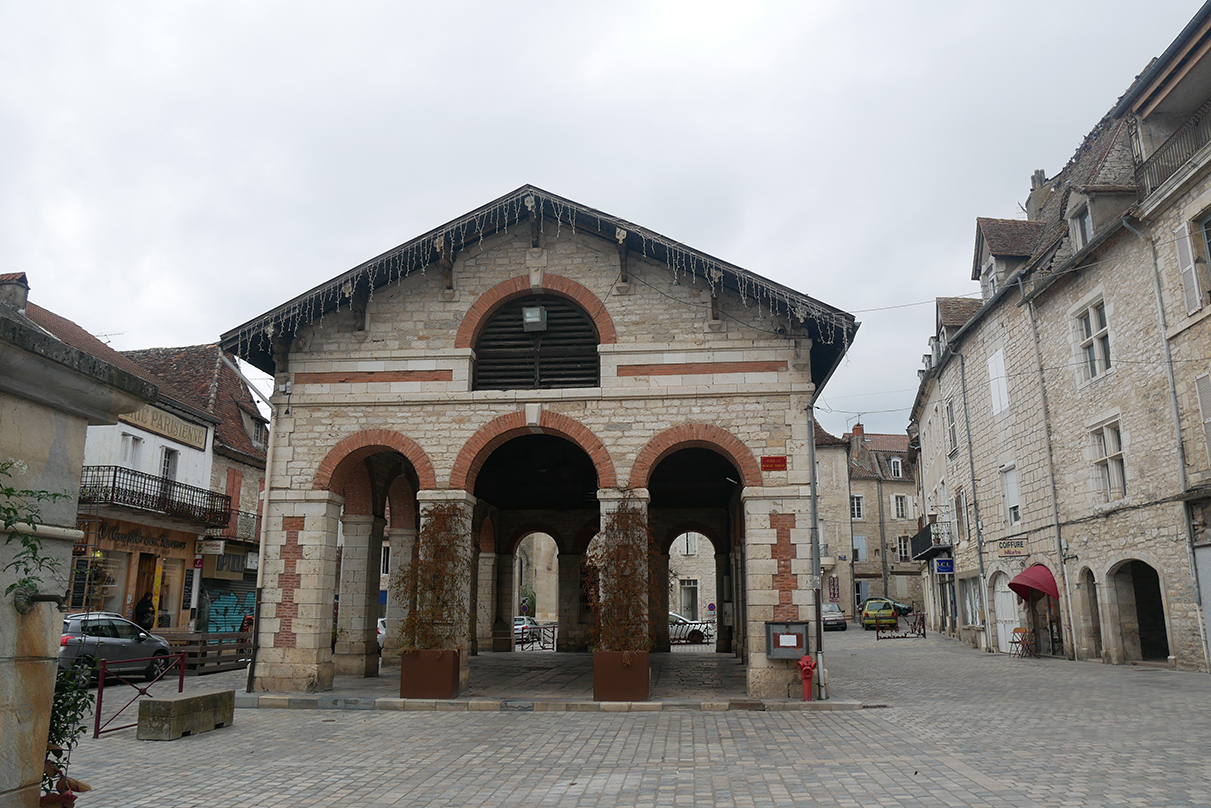 Markedshal i byens centrum, opført 1880/Market Hall in the center of Gramat, built 1880.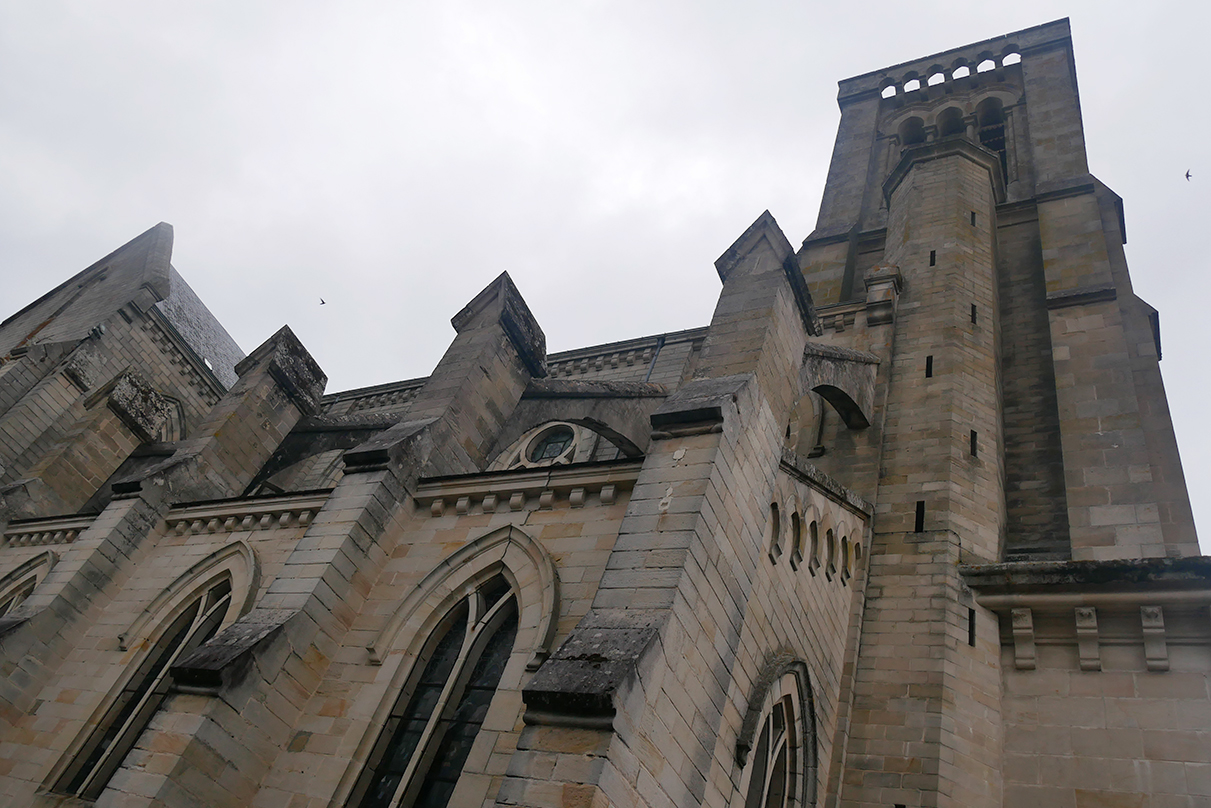 Kirken Saint-Pierre, nygotisk stil, påbegyndt 1904 af distriktsarkitekten for Cahors Émile Jean-Marie Toulouse (1860-1927) og er inspireret af de gotiske katedraler i regionen Île-de-France.
The Church of Saint-Pierre, neo-Gothic, begun 1904 by the architect of the district of Cahors Émile Jean-Marie Toulouse (1860-1927) and influenced by the Gothic cathedrals in Île-de-France.

Glasmosaik viser Jeanne d'Arc som hyrdinde.
Frankrigs nationalhelgen og skytshelgen for bl.a. kvindelige soldater Jeanne d'Arc (f. ca. 1412 i Domrémy - brændt på bålet i Rouen 1431). Navnet på hendes fødeby i den nuværende Grand Est region blev i 1578 ændret til Domrémy-la-Pucelle efter Jeannes tilnavn "la Pucelle d'Orléans" = "Jomfruen fra Orléans".
Den franske bondepige fødtes i slutningen af Hundredårskrigen, der stod mellem Frankrig og England (1337-1453) og var en krig om den franske trone, der endte med fransk sejr.
Da Jeanne var omkr. 12 år begyndte hun at høre guddommelige stemmer, der bønfaldt hende om at redde Frankrig fra engelsk kontrol (Kong Henrik 5., der var af fransk fyrsteslægt hævdede at have krav på den franske trone) og få den franske tronarving kronet til konge i katedralen i Reims.

I 1429 opsøgte Jeanne den franske dauphin/tronarving Charles/Karl 7.'s hof i Chinon og blev gjort til hærfører for en lille hær, da hun erklærede, at hun af Gud var udpeget til at føre Frankrig til sejr. Hun befriede samme år Orléans, hvilket var afgørende, for var byen faldet kunne englænderne have erobret hele den centrale del af Frankrig, og nogle måneder senere sejrede hæren over englænderne ved Patay. Sejrene styrkede tiltroen til Jeanne og Karl 7. blev kronet til konge.
Hendes forsøg på at generobre Paris mislykkedes og under kampene i byen Compiègne blev Jeanne d'Arc taget til fange af englændernes forbundsfæller de burgundiske styrker, der udleverede hende til englænderne, der anklagede hende for kætteri. Hun dømtes ved en gejstlig domstol for at være klædt som mand/hærfører og fordi hun fulgte himmelske ordrer. Jeanne d'Arc blev brændt på bålet i Rouen i 1431 - hendes aske blev spredt i Seinen. Karl 7. gjorde intet for at hindre at Jeanne blev brændt, men fik i 1456 dommen annulleret af pave Calixtus 3.
I 1920 blev Jeanne d'Arc helgenkåret af pave Benedict 15. Hendes festdag er 8. maj, dagen for befrielsen af Orléans i 1429.

The national heroine of France Saint Joan of Arc as shepherdess.
Joan of Arc (born c. 1412 in Domrémy - burned at the stake in Rouen 1431). The village of Domrémy changed its name to Domrémy-la-Pucelle in 1578 - Jeanne's byname "la Pucelle d'Orléans" = "the Maid of Orléans", because she led the French army to victory over the English at Orléans in 1429.

Joan of Arc was the peasant girl who as military leader saved her nation. She was born at the end of the Hundred Years' War (1337-1453) an armed conflict between England and France over territorial rights and the issue of succession to the French throne. At the age of 12 divine voices told her it was her destiny to drive the English out of France and ensure that the uncrowned Dauphin Charles VII was crowned king in the Cathedral of Reims - both became reality.

Margrethe Maria Alacoque (Marguerite-Marie) (1647-1690), en nonne i kommunen Paray-le-Monial, der var medlem af ordenen "Ordo Visitationis Beatissimae Mariae Virginis". Hun fremmede tilbedelsen af Jesu hellige hjerte, symbolet på hans kærlighed til menneskene. Kanoniseret i 1920 af Pave Benedikt 15. Festdag 16. oktober.
St Margaret Mary Alacoque (1647-1690), a nun in the commune Paray-le-Monial, member of the order "Ordo Visitationis Beatissimae Mariae Virginis" (The Order of the Visitation of Holy Mary). She promoted devotion to the Sacred Heart of Jesus Christ. She was canonized in 1920 by Pope Benedict XV. Her Feast Day is October 16.