Giottos fresker/Giotto's frescoes

i Cappella degli Scrovegni alias Arena kapellet, Padova, 1303-06
in The Scrovegni Chapel/Cappella degli Scrovegni aka the Arena Chapel, Padua, 1303-06


Giotto di Bondone.

1
"Joakim og Annas gensyn uden for Jerusalems Gyldne Port". Byporten er den ældste port i muren omkring Jerusalems Gamle By. Historien om Joakim og Annas møde står i Jakobs protoevangelium (forevangelium), en af de nytestamentlige apokryfer. Anna og Joakim var barnløse, hvilket i tiden blev betragtet som en forbandelse. Da Guds velsignelse således ikke var over Joakim nægtede ypperstepræsten at tage imod hans offer, hvorfor han drog ud i ørkenen for at faste og bede. Også Anna bad, og for begge viste sig en engel, der forkyndte, at de skulle få en datter ved navn Maria. Dette glædelige budskab førte dem sammen, og de mødtes uden for Den Gyldne Port, hvor de kyssede hinanden, og Maria, Guds moder, skulle være blevet undfanget ved dette kys.
"The Meeting of Joachim and Anne at the Golden Gate". From the Protoevangelium of James.
2
"Kongernes tilbedelse"/"Adoration of the Magi".
3
"Judaskysset"/Kiss of Judas".
4
"Begrædelsen"/"Lamentation ("The Mourning of Christ").
5
"Opstandelse" (Noli me tangere, Rør mig ikke

)

/"Resurrection" (Noli me tangere, Do not touch me

).

6
"Dommedag"/"The Last Judgement".


1

Franco Trevisan,"Capriola"

, 2002.



er det eneste tilbageværende af en gammel kirke, der var indviet til enten Skt. Mikael eller de hellige ærkeengle (Mikael, Gabriel, Rafael).
is all that remains of an ancient church once dedicated either to St Michael or the archangel saints.



1-3
"Memoria e Luce" (erindring og lys), monument for ofrene for terrorangrebene i New York 11. september 2001, af den amerikanske arkitekt Daniel Libeskind.
"Memoria e Luce" (memory and light), memorial for victims of the 9/11 attacks in New York, executed by the American architect Daniel Libeskind.
4
Statue af Giuseppe Garibaldi (1807-1882) udført af Ambrogio Borghi, 1886. Garibaldi var italiensk patriot og soldat og en central figur i

Risorgimento (Italiens samling)

.
Statue of Giuseppe Garibaldi (1807-1882) executed by Ambrogio Borghi, 1886. Garibaldi was an italian patriot and soldier, and a central figure in the

Risorgimento (

Italian unification).


Padovas rådhus i middelalderen. Den store hal (Salonen) på øverste etage er et af de største uunderstøttede rum i Europa. Hallen har en længde på 81,5 meter, bredden er 17 meter og højden 24 meter. Væggene er dekoreret med fresker.
Den gigantiske "Cavallo ligneo" (hest af træ) er fejlagtigt tilskrevet Donatello. Den blev udført i 1466 til en rundkørsel og bestilt af Annibale Capodilista.
Den 17. august 1756 blev loftet ødelagt og bygningen beskadiget af en tornado.


medieval town hall building. Its great hall (the Salone) on the upper floor is one of the widest rooms in Europe unsupported by columns. The hall has a length of 81,5 meters, a width of 27 metres and a hight of 24 metres. The walls are covered with frescoes.
The giant "Cavallo ligneo" (wooden horse) is has falsely been attributed to Donatello. It was executed in 1466 for a roundabout commissioned by Annibale Capodilista.
A tornado destroyed the roof and damaged the building on 17 August 1756.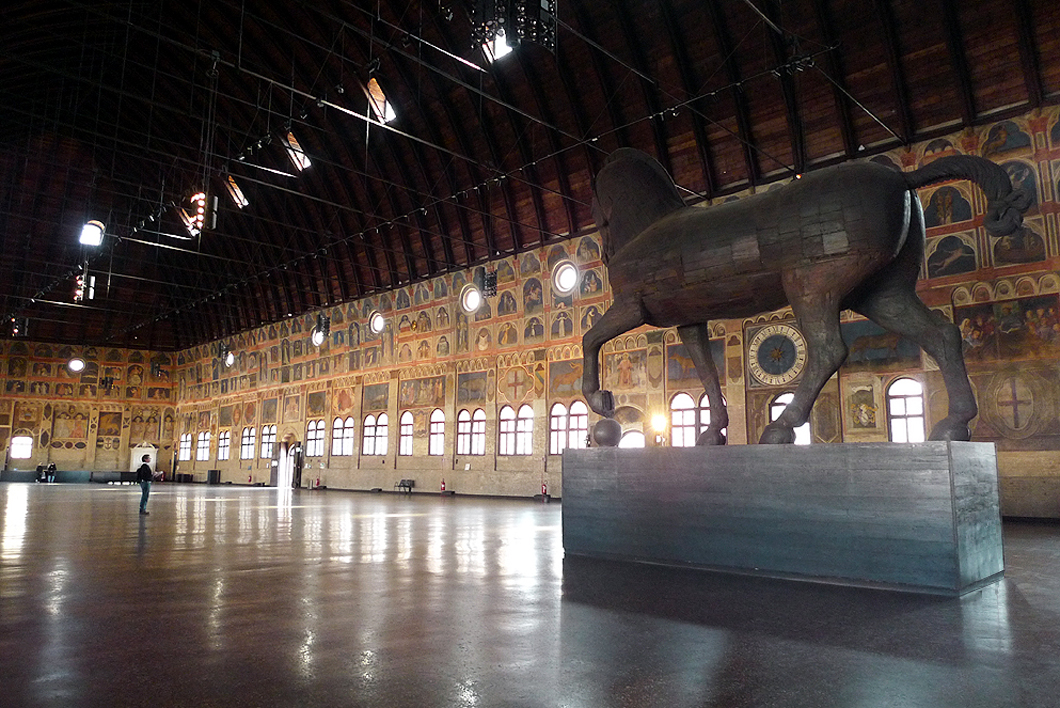 Den pavelige Skt. Antonius kirke
aka Il Santo, 1232-1310
The Pontifical Basilica of Saint Anthony/Il Santo, 1232-1310

er en pilgrimskirke. Kirken er en "International helligdom af den romersk-katolske kirke". En "International helligdom" er en katolsk kirke eller andre hellige steder, der på en biskopkonference er anerkendt som værende af speciel historisk, kulturel eller religiøs værdi. Kirkens stil kan ikke præcis fastlægges, da der gennem århundreder har været ud- om- og tilbygget i forskellige stilarter. Skt. Antonius (1195-1231) af Padova er byens skytshelgen, også skytshelgen for de rejsende, de elskende, husdyr, kvinder, børn, et godt ægteskab, barnløshed, katastrofer, djævelske magter, en god høst og forsvundne ting etc.


a pilgrimage church. The church is one the eight "International shrines" recognized by the Holy See. Sant'Antonio is a giant edifice without a precise architectural style. Over the centuries, it has grown under a variety of different influences. Saint Anthony (1195-1231) of Padua is patron saint of e.g. travellers, the lovers, domestic animals, women, children, a good marriage, childlessness, disasters, evil spirits, harvest, lost things.



Padovas domkirke, 1551-1754

Padua Cathedral, 1551-1754

indviet til Jomfru Marias optagelse i himlen og bispesæde for biskoppen af Padova. Kirken er den tredje på stedet. Den første kirke blev opført i 313 og ødelagt under en jordskælv i 1117. Den blev genopført i romansk stil. Tegningerne til den nuværende kirke i renæssancestil er tilskrevet Michelangelo, imidlertid formodes kirken at være tegnet af Andrea della Valle og Agostino Righetto.

dedicated to the Assumption of Virgin Mary, and seat of the bishop of Padua. The church is the third structure on the same site. The first church was built in 313 and destroyed by an earthquake in 1117. It was rebuilt in Romanesque style. The design of the present renaissance church has been attributed to Michelangelo, but supposed to be a work of Andrea della Valle and Agostino Righetto.

1
Fresken "Paradis", 1375-78, i baptisteriets kuppel, udført af Giusto de' Menabuoi.
The fresco"Paradise", 1375-78 of the cupola of the baptistery, executed by Giusto de' Menabuoi.

1-3
Café Pedrocchi, grundlagt i 1700-tallet. Er blevet kaldt "cafeen uden døre" fordi den indtil 1916 var åben dag og nat.
Café Pedrocchi, founded in the 18th century, called the "doorless café" because until 1916 it was open day and night.

1-2

Det anatomiske teater, 1594, det ældste af sin slags i verden, beliggende i Palazzo del Bò (i dag juridisk institut ved Padua Universitet).
The Anatomical Theater, 1594, the oldest in the world, located inside Palazzo del Bò (today the Law Department of Padua University).
3
Statue af Elena Lucrezia Cornaro Piscopia (1646-1684), italiensk filosof og den første kvinde der fik en akademisk grad.
Statue of Elena Lucrezia Cornaro Piscopia (1646-1684), Italian philosopher and the first woman to receive an academic degree.
4
Palazzo del Bò, hovedbygningen i Padovas gamle universitet.
Palazzo del Bò, the main building of the old university of Padua.


1-3
Prato della Valle er den største plads i Italien. Den er elliptisk og en kanal omgiver den centrale ø Memmia. De 78 figurer der omgiver pladsen er fra omkring 1766 og er af personer af betydning of Padovas historie.
Prato della Valle, the largest square in Italy. The layout is elliptical and characterised by a canal surrounding the central island Memmia. The 78 surrounding statues from about 1766, represent people who were important for the history of Padua.
4
Den Hellige Justinas katedral/The Basilica of Santa Giustina.