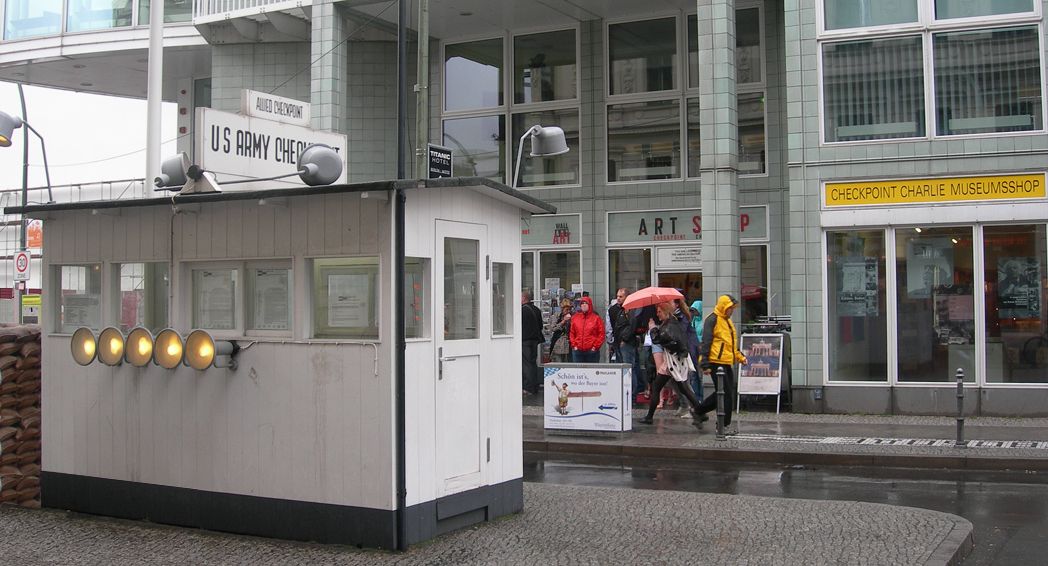 Checkpoint Charlie alias Kontrolpunkt C grænseovergang 1945-1990 mellem Øst- og Vestberlin.
Checkpoint Charlie a border crossing point from West into East Berlin from 1945-1990.


Bellevue paladset



Bellevue paladset, embedsbolig med udsigt over Spree for den tyske præsident (Frank-Walter Steinmeier fra 2017). Det nyklassicistiske palæ blev opført i 1786 til Prins August Ferdinand af Preussen af arkitekten Philipp Daniel Boumann.
The Bellevue Palace, residence of the German President (Frank-Walter Steinmeier was elected President in 2017). The palace owes its name to its beautiful view over the Spree River. The neoclassical palace was built in 1786 for Prince August Ferdinand of Prussia by the architect Philipp Daniel Boumann.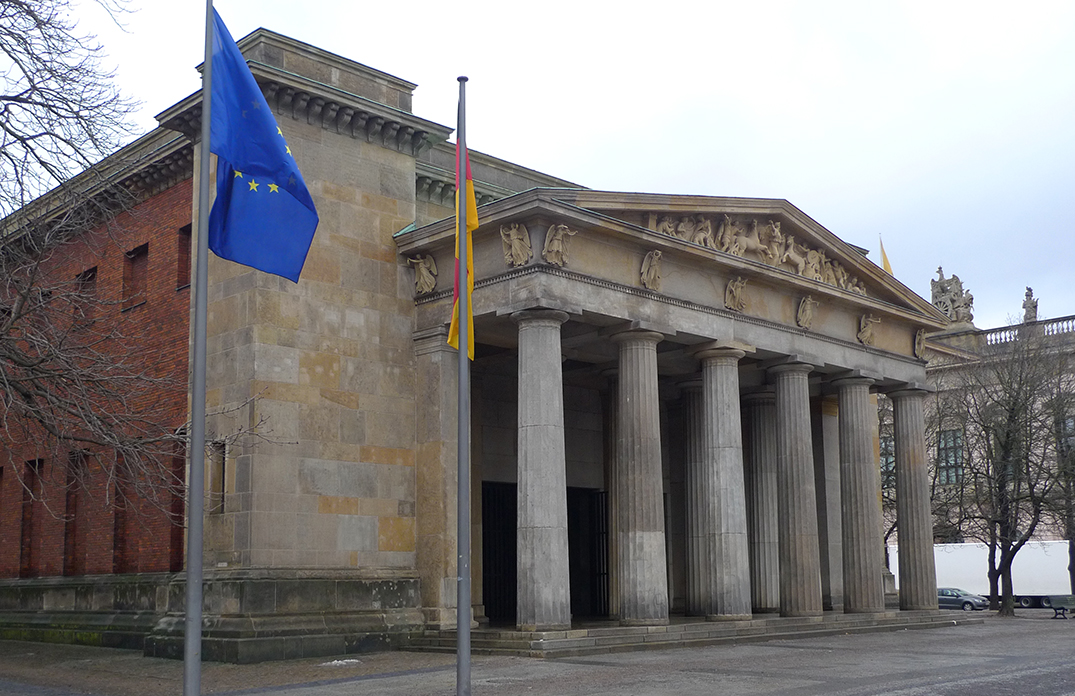 1
Karl Friedrich Schinkel,

Det nye vagthus

(Neue Wache), nyklassicisme, 1816, Unter den Linden. Oprindeligt vagtbygning for den deling, der skulle beskytte den preussiske kronprins. Siden 1931 mindesmærke for alle tyske krigsofre.
Karl Friedrich Schinkel, New Watchhouse (Neue Wache, Neoclassicism, 1816, Unter den Linden.

Originally a guardhouse for the troops of the Crown Prince of Prussia.

Since 1931 war memorial.

2
Karl Friedrich Schinkels Nye Skuespilhus, 1819-21, nu Koncerthus Berlin.
Karl Friedrich Schinkel's New Theatre, 1819-21, now Berlin Concert House.
3

Haus der Kulturen der Welt (hus for verdens kulturer)

, 1957, center for nutidig ikke europæisk kunst. Tidligere kendt som Konferencecenter. Bygningen var en gave fra USA, tegnet af den amerikanske arkitekt Hugh Stubbins Jr. I 1980 kollapsede taget, bygningen blev genopbygget og åbnet påny i 1997. Bygningen har tilnavne som "Den gravide østers", "Jimmy Carters smil/gebis" og efter tagets kollaps "Ronald Reagans hævn".
Foran bygningen er Henry Moore skulpturen "Large Divided Oval: Butterfly", 1985-86.


Haus der Kulturen der Welt (House of the Cultures of the World)

, 1957, national centre for contemporary non-European art. Formerly known as Conference Hall. The building was a gift from the US, designed by the American architect Hugh Stubbins Jr. In 1980 the roof collapsed, the building was reconstructed and reopened in 1997. The building got nicknames such as "The Pregnant Oyster", "Jimmy Carter's Smile" and after its collapse "Ronald Reagan's Revenge".
In front of the building is Henry Moore's sculpture "Large Divided Oval: Butterfly", 1985-86.
4-5
Fjernsynstårnet

på

Alexanderplatz, Berlins vartegn, er ca. 368 m højt. Tårnet blev bygget mellem 1965-69 i det tidligere Østberlin, DDR. Arkitekten Hermann Henselmann var inspireret af Sputnik I, den satelit som Sovjetunionen opsendte i 1957.
The TV Tower, the landmark of Berlin, were constructed between 1965-69 in the former East Berlin. The architect Hermann Henselmann was influenced by Sputnik I, satelite launched by the Soviet Union in 1957.
6
Berlin Hauptbahnhof (hovedbanegård) indviet 2006/Berlin Hauptbahnhof (Central Station) inaugurated in 2006.

1

Bundeskanzleramt Berlin (Forbundskancelliet) (1997-2001), påbegyndt under kansler Helmut Kohl, tegnet af arkitekterne Axel Schulte og Charlotte Frank. Bygningen har tilnavne som Kohls vaskemaskine og Kohlosseum. Bygningen huser kontorer for Forbundskansler Angela Merkel (kansler siden 2005).

Bundeskanzleramt Berlin

(Federal Chancellery) (1997-2001), begun during the leadership of Chancellor Helmut Kohl, known as Kohl's washing machine and Kohlosseum. Designed by the architects Axel Schulte und Charlotte Frank. The building host the offices of the Federal Chancellor Angela Merkel.
2-3

CDU's hovedkvarter, kaldet Titanic

, fuldført 1999 af arkitektfirmaet Petzinka, Pink und Partner, Düsseldorf.


CDU Building, Berlin, called Titanic

, built 1999 by the Architectural firm Petzinka, Pink und Partner, Düsseldorf.

Rigsdagsbygningen



Rigsdagsbygningen.

Under trekantfrontonen står "DEM DEUTSCHEN VOLKE" ("For det tyske folk"). Inskriptionen blev tilføjet i 1916 af kejser Wilhelm II.


The Parliament of the Federal Republic of Germany.

The inscription "Dem Deutschen Volke" (To the German People) was added in 1916 by emperor Wilhelm II.


1

Rigsdagsbygningens

kuppel er tegnet af den engelske arkitekt Norman Foster.
The Parliament copula is designed by the English architect Norman Foster.
2

Bjørnen

er Berlins symbol. En bjørn kronet med en gylden krone er Berlins officielle symbol og indgår i byens flag og byvåbenet.


The bear

is the symbol of Berlin. A bear wearing a golden crown is the official symbol of Berlin, and appears on the city's flag and coat of arms.

1-2
Kaiser Wilhelm Gedächtniskirche (kejser Wilhelms mindekirke), 1891-95, tegnet af arkitekten Franz Schwechten. Kirken blev ødelagt under
2. Verdenskrig. I stedet for at rive ruinen ned blev der ved siden af den, bygget en ottekantet kirke (1959-1963) tegnet af Egon Eiermann. Den nye kirke står i stærk kontrast til den gamle og har tilnavnene pudderdåsen og læbestiften.


Kaiser Wilhelm Gedächtniskirche

(Emperor William Memorial Church), 1891-95, designed by the architect Franz Schwechten. The church was destroyed during World War II. Rather than demolish the ruin, an octagonal church (1959-1963) designed by Egon Eiermann was built alongside the old tower. The new church is also known as the powder box and the lipstick.

3

Berliner Dom (Berlins katedral/Kejserens katedral) kaldet "Den protestantiske Peterskirke". Den nuværende i nybarok stil er fra 1905.

Berliner Dom

(Berlin Cathedral/The Emperor's Cathedral) known as the "Protestant St. Peter's".

The present Neo-Baroque structure dates from 1905.

4

Deutscher Dom (den tyske kirke), 1708, barokkirke tegnet af Martin Grünberg.

Deutscher Dom

(German Church), 1708, baroque church designed by Martin Grünberg.
5

Matthæuskirken

/St Matthew Church.
6

Kaufhaus des Westens - KaDeWe

.

1

Den britiske ambassade

, Wilhelmstrasse 70, (1995-2000), tegnet af den engelske arkitekt Michael Wilford og Hotel Adlon (til højre).


The British Embassy

, Wilhelmstrasse 70, (1995-2000), designed by the English architect Michael Wilford and Hotel Adlon

(right).

2

Den amerikanske ambassade

, Pariser Platz 2/The American Embassy Berlin, Pariser Platz 2.
3

Berlin Philharmonic Concert Hall

.

4

Café Einstein Stammhaus

, Kurfürstenstraße 58.

1-6

Brandenburger Tor er den eneste tilbageværende byport i Berlin. Porten blev under den kolde krig symbol på Berlins deling. I 1987 holdt den amerikanske præsident Ronald Reagan tale ved porten og opfordrede Mikhail Gorbatjov til at rive Berlinmuren ned.

The Brandenburger Tor

is the only remaining city gate in Berlin. During The Cold War the gate became a symbol of the divided city. In 1987 the American president Ronald Reagan challenges Mikhail Gorbatjov to "Tear down this wall".

1-3

Holocaust Monumentet

, 2005, tegnet af den amerikanske arkitekt Peter Eisenman.
Holocaust Memorial, 2005, by the American architect Peter Eisenman.