Alte Nationalgalerie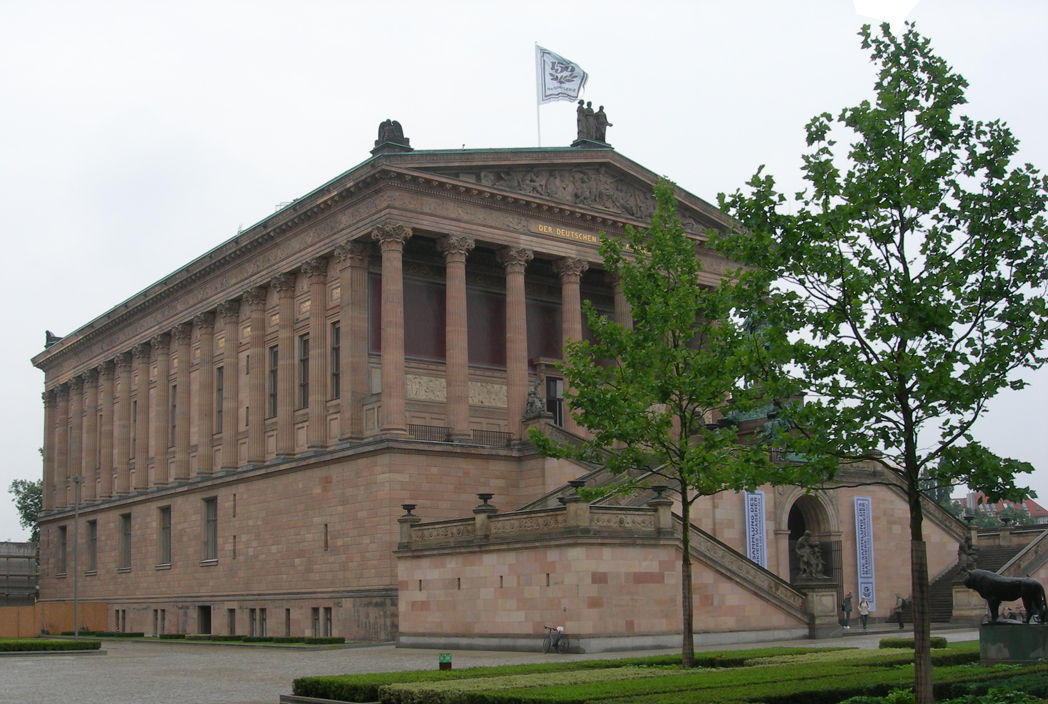 Alte Nationalgalerie (Gamle Nationalgalleri), en tempelagtig bygning tegnet af arkitekten Friedrich August Stüler påbegyndt 1866, året hvor Stüler døde. Johann Heinrich Strack overtog ledelsen af byggeriet. Museet blev indviet i 1876.
Alte Nationalgalerie (Old National Gallery), a temple-like building designed by the architect Friedrich August Stüler. The building activities began in 1866, the year Stüler died. Johann Heinrich Strack took over the site management. The museum was inaguarated in 1866.


1
Arnold Böcklin, "Selvportræt med døden spillende violin", 1872, Alte Nationalgalerie.
Arnold Böcklin, "Self-Portraiet with Death Playing the Fiddle", 1872, Alte Nationalgalerie.
2
Arnold Böcklin, "Selvportræt med vinglasset", 1885, Alte Nationalgalerie.
Arnold Böcklin, "Selfportrait with the wine glass", 1885, Alte Nationalgalerie.
3
Arnold Böcklin, "De dødes ø", 1883, Alte Nationalgalerie/Arnold Böcklin, "The Isle of the Dead", 1883, Alte Nationalgalerie.
4
Caspar David Friedrich, "Kloster mellem egetræer", 1809-10. Alte Nationalgalerie.
Caspar David Friedrich, "Abbey among Oak Trees", 1809-10. Alte Nationalgalerie.
5
Caspar David Friedrich, "Gotisk kirke på en klippe ved havet", 1815, Alte Nationalgalerie.
Caspar David Friedrich, "Gothic Church on a Rock by the Sea", 1815, Alte Nationalgalerie.

1
Paul Cezanne, "Mill on the Couleuvre at Pontoise", 1881, Alte Nationalgalerie.
2
Paul Cezanne,

"Stilleben med frugt & lervarer 1869-71"

, Alte Nationalgalerie.
Paul Cezanne,

"Still-life with fruit & crockery 1869-71"

, Alte Nationalgalerie.
3
Edouard Manet, "Huset på Rueil", 1882, Alte Nationalgalerie/Edouard Manet, "The House at Rueil", 1882, Alte Nationalgalerie.
4
Auguste Renoir, "Børnenes eftermiddag i Wargemont", 1884, Alte Nationalgalerie.
Auguste Renoir, "Children's Afternoon at Wargemont", 1884, Alte Nationalgalerie.
5
Raoul Dufy, "Havn", 1908, Alte Nationalgalerie/Raoul Dufy, "Harbour", 1908, Alte Nationalgalerie.

1
Caspar David Friedrich, "Dybt inde i skoven i måneskin", omkr. 1823, Alte Nationalgalerie.
Caspar David Friedrich, "Deep in the Forest by Moonlight", about 1823, Alte Nationalgalerie, Berlin.
2
Berlins Naturvidenskabelige Samling/Scientific Collection Berlin.
3-5
Museum Berggruen.

Kort over Museumsøen


visende de 5 museer på øen i Spreefloden. Museerne blev i 1999 optaget på UNESCOs

Verdenskulturarvsliste

. Samtlige bygninger blev stærkt beskadiget under 2. Verdenskrig og senere rekonstrueret.
Map of the Museum Island. Located of an island in the Spree River the complex holds 5 museums. The museums were added to the UNESCO list of world heritage in 1999. All buildings were seriously damaged during World War II and later reconstructed.

Altes Museum fuldført 1830, tegnet af arkitekten Karl Friedrich Schinkel i nyklassicistisk stil.
Completed 1830, designed by the architect Karl Friedrich Schinkel in Neoclassical style.
Neues Museum fuldført 1859, tegnet af af arkitekten Friedrich August Stüler.
Completed 1859, designed by the architect Friedrich August Stüler.
Alte Nationalgalerie fuldført 1876, tegnet af af arkitekten Friedrich August Stüler.
Completed 1876, designed by the architect Friedrich August Stüler.
Bode Museum fuldført 1904, tegnet i barokstil af af arkitekten Ernst von Ihne, der var hofbygmester for den tyske kejser Frederik III og hans søn Wilhelm II. Oprindeligt hed museet Kaiser Friedrich-Museum, men opkaldtes i 1956 efter museets skaber og tidligere direktør Wilhelm von Bode (1845-1929).
Completed 1904, designed in Baroque style by the architect Ernst von Ihne, who was Court Builder to the German Emperor Frederick III and his son Wilhelm II. Originally the museum was named Kaiser Friedrich-Museum. In 1956 it was nemed after its creator and former director Wilhelm von Bode (1845-1929).
Pergamon Museum - fuldført 1930, efter tegninger af af arkitekten Alfred Messel.
Completed 1930 after drawing by the architect Alfred Messel.

1-3
Floden Spree/The River Spree.
4
Altes Museum (Gamle Museum/The Old Museum).
5
Neues Museum (Nye Museum/The New Museum).
6-12
Pergamon Museum.
11-12
Det rekonstruerede Pergamonalter, der blev opført i Kong Eumenes II's regeringsperiode (første halvdel af 2. århundrede f.Kr.) på et bjerg ved byen Pergamon, antik græsk by i det nuværende Tyrkiet.
The reconstructed Pergamon Altar, built during the reign of King Eumenes II (first half of the 2nd century BC) on one of the terraces of the acropolis of Pergamon, ancient Greek city in modern-day Turkey.

1-8
Pergamon alteret/Pergamon Altar
9-14
Rekonstruktion af Ishtar Porten, Pergamon Museet. Ishtar Porten var en af de otte porte i Babylon bygget i kong Nebukadnesar II's regeringsperiode (605-562 f.Kr). Han opførte også de hængende haver - et af verdens syv vidundere.
The reconstructed Ishtar Gate, Pergamon Museum. The Ishtar Gate, one of the eight gates in Babylon, was built during the reign of King Nebuchadnezzar (605-562 BC).

1-12
Bode Museum.
4
Kopi af rytterstatue af kurfyrst Frederik Wilhelm I (den store kurfyrst), 1698, udført af Andreas Schlüter, Bode Museet. Originalen står på Charlottenburg slotsplads.
Copy of the Equestrian statue of Friedrich Wilhelm I (der Große Kurfürst) elector of Brandenburg, 1698, executed by Andreas Schlüter, Bode Museum. The original is placed at the courtyard of Charlottenburg Palace.
5
Hoved af en prinsessestatue, Bode Museum/Head of a statue of a princess, Bode Museum.

1-4
Neue Nationalgalerie tegnet af arkitekten Mies van der Rohe in 1968.
Neue Nationalgalerie (New National Gallery) designed by Mies van der Rohe in 1968.
5
Museum für Fotografie.
6
Brücke Museum.

Die Brücke blev dannet i Dresden i 1905 af Ernst Ludwig Kirchner, Erich Heckel, Karl Schmidt-Rottluff og Otto Mueller. Gruppens navn blev foreslået af Schmidt-Rottluff, det stammer fra et citat i Filosoffen Friedrich Nietzsches bog "Also sprach Zarathustra" (Således talte Zarathustra), 1883-85. Med Die Brücke skabtes den tyske ekspressionisme, hvis forbilleder var primitiv kunst samt symbolisterne van Gogh og Edvard Munch, og hvis ideal var at udtrykke sig på en så personlig og oplevet måde som muligt i stærke farver. I grafikken arbejdede kunstnere omkring Die Brücke med skarpe kontraster mellem sort og hvidt, som det f.eks. kan ses i Noldes træsnit. De tyske kunstnere inddrog udenlandske kolleger i Die Brücke, og man opfordrede beskuerne til at blive medlem af kunstnersammenslutningen, og disse medlemmer fik hvert år en grafikmappe (Brücke-mappe). Se ekspressionisme.
Brücke Museum.
Die Brücke was a group of German expressionists formed in Dresden in 1905 and followed by the group Dresdner Sezession. The founders were Ernst Ludwig Kirchner, Erich Heckel, Karl Schmidt-Rottluff and Otto Mueller. The name was suggested by Karl Schmidt-Rottluff and derived from a quotation in "Also sprach Zarathustra" (Thus Spoke Zarathustra), a book by the German philosopher Friedrich Nietzsche, 1883-85. Die Brücke wanted to show the connection (the bridge) between different art styles. The artist felt that their work was related to the work of symbolist painters such as the Dutch painter Vincent van Gogh and the Norwegian painter Edvard Munch. See Expressionism.

Sans Souci, Potsdam (Sorgenfri/Free of Care)
Frederik den Stores (Frederik II af Preussen) maison de plaisance - et lystslot på landet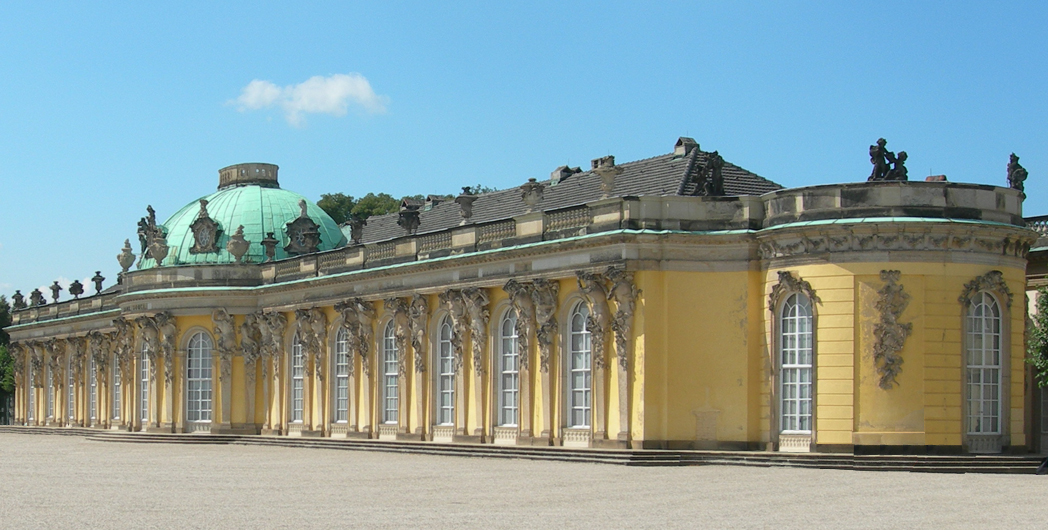 "Sans Souci" (Sorgenfri, uden sorg), 1745-47, Potsdam i det tidligere Østtyskland, opført af Frederik/Friedrich II, der regerede 1740-86. Arkitekten var G.W. von Knobelsdorff, hofmaleren var A. Pesne. Navnet Sanssouci er valgt efter kongens livsholdning, stræben efter velbefindende, et liv i landlige omgivelser, fri fra hverdagens sorger og bekymringer og fri fra den trykkende repræsentative pligt til et let liv med filosofi, litteratur, musik og forfattervirksomhed. Omkring 1750 boede den franske forfatter og oplysningsfilosof Francois de Voltaire (1694-1778) her et par år, et af rummene hedder Voltaireværelset. Marmorsalen (ægte marmor) er slottets vigtigste rum, den danner forbindelse med øst- og vestfløj. Koncertrummet er et af de skønneste rum i tysk rokoko. Slottet blev tilføjet UNESCOs Verdensarvsliste i 1990. Se rokoko.
"Sans Souci" (Carefree), 1745-47, Potsdam, the former eastern Germany, a summer residence for the royals and the nobles, was built for Friedrich II. About 1750 the France writer and philosopher Francois de Voltaire (1694-1778) lived in the palace. The palace was added to UNESCO World Heritage List in 1990. See Rococo.

1
Anton Graff, "Frederik den Store", 1781. Frederik den Store (Frederik II) (1712-1786) (regeringsperiode 1740-1786), k

onge af Preussen

, kurfyrste af Brandenburg. 1733 gift med Elizabeth Christine af Braunschweig-Bevern. Ægteskabet var barnløst.
Anton Graff, "Frederick the Great", 1781. "Frederick the Great" (Frederick II) (1712-1786) (reign 1740-1786), King of Prussia, Elector of Brandenburg. 1733 he married Elizabeth Christine of Brunswick-Bevern.
2
Frederik den Store døde i denne stol i sit arbejdsværelse den 17. August 1786.
I 1752 skrev Frederik den Store i sit testamente: "Jeg har levet som en filosof og ønsker at blive begravet som en sådan - uden pomp, uden pragt og uden højtidelighed..." Hans efterfølger, Frederik William II, mente at en simpel grav var uværdig for en konge. Efter at have ligget på lit de parade i vinterresidensen - Potsdams byslot (ødelagt af bomber i 1945, nu genopbygget) blev hans lig under en stor ceremoni ført til Garnisonskirken i Potsdam, hvor han blev stedt til hvile ved sin fars side. Frederik den Stores sarkofag stod i mere en 150 år i krypten i Garnosonkirken. Under 2. Verdenskrig blev begge kister evakueret til en kaliummine i Berntgerode i bjernene i Harzen hvorfra, ad snirklede veje, de ankom til at kapel i Burg Hechingen. Kongens ønske om at blive begravet i Sans Souci blev efterkommet af Prins Louis Ferdinand (1907-1994), overhovedet for Huset Hohenzollern. I 205-året for Frederik den Stores dødsdag, den 17. august 1991, blev han genbegravet på øverste terrasse i Sans Souci.
Frederick the Great died in this chair in his study on 17 August 1786.
In 1752 Frederick the Great, in his political last will and testament, stated: "I have lived as a philosopher and wish to be buried as one - without pomp, without splendour and without ceremony...". In the eyes of his successor, Frederick William II, a simple tomb was unworthy of a King. After lying in state in the Potsdam City Palace (winter residence, bombed and burned out in April 1945. Now reconstructed), his body was tranferred with great ceremony to the Garrison Church in Potsdam, where it was laid to rest beside the tomb of his father. Friedrich the Great's sarcophagus stand for more than 150 years in the crypt of the Garrison Church. During World War II, both coffins were evacuated to a potassium mine at Berntgerode in the Harz Mountains from where, by a circuitous route, they arrived at the chapel at Burg Hechingen. On the 205th anniversary of his famous ancestor's death Prince Louis Ferdinand (1907-1994), the then head of the House of Hohenzollern, had Frederick the Great interred in his tomb on the terrace at Sans Souci on 17 August 1991.
3
Frederik den Stores grav i Sans Souci. På stenen ligger altid kartofler refererende til, at kongen så kartoflen som god og billig næring. Imidlertid var det vanskeligt at få befolkningen til at dyrke kartofler, de så besynderlige ud, var natskyggeplanter og som sådan nok giftige. Under hungersnøden i 1774 tilbød kongen gratis kartofler til bønderne og gav ordre til en landsdækkende plan for dyrkning af afgrøden. Byen Kolberg erklærede: "Disse tingester har hverken duft eller smag, ikke engang hunde vil spise dem, så hvad nytter de os?" Kongen truede med at skære næse og ører af enhver bonde, der ikke plantede kartofler, men ændrede taktik og etablerede en stærkt bevogtet kongelig kartoffelmark. Lokale bønder bemærkede kongens beundring for kartoffelplanten og sneg sig til at stjæle og plante den royale afgrøde, præcis som tilsigtet af kongen.
Frederick the Great's grave at Sans Souci. Potatoes are alwayes placed on his gravestone, because the king saw the potato's potential to help feed his nation. However it was difficult to overcome the people's prejudice against the plant. During a famine in 1774, the King offered free potatoes to the peasants and ordered a national cultivation program. The town of Kolberg declared: "The things have neither smell nor taste, not even the dogs will eat them, so what use are they to us?" Frederick threatened to cut the nose and ears off any peasant who did not plant potatoes, but soon resorted to a different tack, establishing a heavily guarded royal potato field. Local peasants, noticing their king's admiration of potato flowers as well as the tubers themselves, sneaked in to steal and plant the royal crop, exactly as Frederick had intended.
4
Honnørgården er den officielle indgang til Sans Souci/The cour d'honneur, the official entrance to Sans Souci.

1
Kolonnade omgivende Honnørgården på nordsiden af palæet. I baggrunden anes Ruinenberg.
Colonnade enclosing the cour d'honneur on the northern side of the palace.
2-5
Palæets havefacade dekoreret med atlasfigurer og karyatider, henholdsvis mandlige og kvindelige bærende led/søjler. Figurerne synes at støtte balustraden ovenfor. Den sydvendte havefacade - Frederik den Store afviste arkitektens råd om at placere piano nobile (den fornemmeste etage, oftest på 1. sal) så lavt beliggende, hvilket resulterede i at der ikke er nogen parkudsigt.
The garden facade of the Palace decorated with atlas and caryatid figures seeming to support the balustrade. The south facing garden facade - Frederick the Great ignored his architect's advice to place the piano nobile upon a low ground floor, which resulted in no parkview.

1-6
Vinterrasser

/

Wine terraces.

1
Herkules og Antæus/Heracles and Antaeus.
2
Pluto & Proserpina, se Proserpinas Rov.
3
Jupiter & Io.
Udført 1758

af den franske rokokoskulptør

Francois Gaspard Adam/Executed 1758

by the French Rococo sculptor

Francois Gaspard Adam.

1
Havepavillon/Garden pavillion.
2-3
Græsk bronzeskulptur "Ungt bedende menneske". Fundet på Rhodos. Originalen står i dag på Staatliche Museen, Berlin.
Greek bronze sculpture "Youth Praying". Found on Rhodes. Today the original is placed in Staatliche Museen, Berlin.
4-6
Den Sicilianske have/The Sicilian Garden.

| | |
| --- | --- |
| 1-4 | Den Sicilianske have/The Sicilian Garden. |
| 5-6 | Den nordiske have/The Nordic Garden. |

1-2
Koncertrummet er et af de fineste rokokorum i tysk arkitektur/The concert room, one of the richest Rococo halls in German architecture.
3

Adolf von

Menzel, "Fløjtekoncert på Sans Souci", 1852. Frederik den Store spiller fløjte i slottets koncertrum.
Adolf von Menzel, "The Flute Concert of Sanssouci", 1852. Frederick the Great is playing flute in the concert room.
4-6
Marmorsalen med kuppel og dobbelte korintiske søjler/The Marble Hall with cupola and double Corinthian columns.

1-2
Det lille galleri i selve paladset huser en del af Frederik den Stores samling af malerier og skulpturer.
The little gallery inside

Sanssouci Palace

houses a part of Frederick the Great's collection of paintings and sculptures.
3
En abe og frugt i Voltaireværelset, hvor den franske oplysningsfilosof Voltaire (1694-1778) boede når han besøgte kongen. De lysegule vægge er dekorerede med et væld af blomsterranker, frugter og dyr.
A monkey and fruit in the Voltaire Room, where the French philosopher Voltaire (1694-1778), a

s a guest of the king, lived during his stay.

The light yellow

walls

are

decorated with a wealth of flower garlands, fruits and animals.

1-9
Billedgalleriet, 1754-57, tegnet af Johann Gottfried Büring til Frederik den Stores malerisamling af italienske, hollandske og flamske barokværker så som Caravaggio, Rubens, Reni, Rembrandt og van Dyck. Billedgalleriet er den første selvstændige museumsbygning i Tyskland.
The Picture Gallery, 1754-57, designed by Johann Gottfried Büring for the collection of paintings of Frederick the Great. The works of the Italian, Dutch, and Flemish Baroque periods are featured, including paintings by Caravaggio, Rubens, Reni, Rembrandt and van Dyck.
10
Caravaggio, "Den vantro Thomas", ca. 1601-02/Caravaggio, "The Incredulity of Saint Thomas", c. 1601-02.


1-4
Palæets køkken tegnet 1842 af arkitekterne Ludwig Persius og Ferdinand von Arnim.
The Palace Kitchen designed in 1842 by the architects Ludwig Persius and Ferdinand von Arnim.

| | |
| --- | --- |
| 1-6 | Potsdam. |
| 1 | Historisk mølle ved Sans Souci. På stedet har været møller siden 1738mill nearby Sans Souci. Location of a mill site since 1738. |
| 2 | Skt. Nikolai kirke/St Nicholas's Church. |
| 3 | Filmmuseum Potsdam har til huse i en smuk barokbygning, Potsdams ældste bygning/The Potsdam Film Museum. |