Sainte-Chapelle/Det Hellige Kapel/The Holy Chapel


Sainte-Chapelle, gotik (

Rayonnant gotik, fransk byggestil i 1200-tallet, der repræsenterer nye højder i den gotiske stil)

, indviet 1248. Kapellet, der blev opført ved siden af kongeslottet

Palais de la Cité (i dag højesteret),

blev bestilt af Kong Ludvig 9./Ludvig den Hellige til at huse hans samling af relikvier fra Jesu lidelse bl.a. tornekronen og en splint fra Kristi Kors, købt af kejseren i Byzans.

Kapellet har to etager. Det nederste kapel var til hoffets ansatte og højkapellet/slotskapellet herover med 15 glasmosaikvinduer, der viser scener fra Det Gamle og Det Nye Testamente, var forbeholdt de kongelige, og her blev de hellige relikvier opbevaret.
Restaurering af glasmosaikkerne er kommet i stand med støtte fra Velux Fonden.

Sainte-Chapelle, Gothic (Gothic Rayonnant style, 13th century French building style that represents the height of Gothic architecture), inaugurated 1248. The chapel, built next to the royal palace Palais de la Cité (today the Supreme Court), was commissioned by King Louis IX/Saint Louis to house his collection of relics of the Passion of Jesus Christ - among other things the crown of thorns and a fragment of the True Cross.
Sainte-Chapelle consists of two chapels. The lower chapel was for the royal household. The upper chapel, with 15
stained glass windows showing scenes from the Bible, and where the holy relics were kept, was reserved for the royal family.

Centre Pompidou



Kulturcentret Pompidou/Pompidoucentret,

1971-77

, opført på initiativ af præsident Georges Pompidou, der ønskede et center for kunst og kultur i hjertet af Paris. Den revolutionerende High-Tech konstruktion med glasfacade og rulletrappe i et plexiglasrør og blå og grønne ventilationsskakter på facaden er tegnet af den italienske arkitekt Renzo Piano (

der også har tegnet

Zentrum Paul Klee

, Bern), den britiske arkitekt Richard Rodgers, den italienske arkitekt Gianfranco Franchini og det engelske ingeniørfirma Ove Arup and Partners, grundlagt i 1946 af den dansk-engelske ingeniør Sir Ove Arup. Pompidoucentret åbnede i 1977.

Pompidoucentret indeholder: museum for moderne og samtidig europæisk kunst, bibliotek, biografer og forestillingsrum, et institut for musikforskning, et center for industriel design, undervisningsrum og boghandler. Museets samling indeholder værker af bl.a. Picasso, Magritte, Kandinsky, Chagall og Klee.

Centret blev renoveret fra 1997-99 og genåbnede i 2000.

Pompidou Center.

The Georges Pompidou National Center for Art and Culture (Centre National d'art et de culture Georges Pompidou

), Paris, 1971-77.

The president of the French Republic from 1967-74,

Georges Pompidou, wanted a center for Art and Culture in the heart of Paris. The revolutionary High-Tech construction with its glass facade and the escalator in a Plexiglas tube and blue and green pipes on its facade was designed by the Italian architect Renzo Piano, the British architect Richard Rodgers, the Italian architect

Gianfranco Franchini

and the English engineering firm, Ove Arup and Partners. The Pompidou Center opened its doors to the public in 1977.


The Center houses: Museum of modern and contemporary European art, a public library, cinemas and performance halls, an institute for musical research, center for industrial design, educational activity areas and bookshops. The collections of the Museum included works by

Picasso

,

Magritte

,

Kandinsky

,

Chagall

and

Klee.


The Center was renovated from 1997-99 and reopened to the public in 2000.


Hôtel National des Invalides/Invalidestiftelsen

Invalidestiftelsen indeholder to kirker Invalidekirken og Invalidedomen (i krypten Napoleons sarkofag).

The Hôtel National des Invalides
contains two churches St Louis Cathedral and
The Dome (in the crypt Napoleon's tomb).


Invalidestiftelsen

: Ludvig 14. ønskede at opføre en stiftelse for sine trofaste og tapre soldater, en opgave som tildeltes den franske højbarokarkitekt Libéral Bruant. Stiftelsen blev opført i perioden 1671-76 og gav plads til 7000 soldater.
Invalidekirken

(Eglise Saint-Louis-des-Invalides). Bruants stiftelse fuldendtes med denne kirke for soldaterne.
Invalidedomen

(Le Dôme des Invalides) dominerer komplekset. Denne kirke for de kongelige, påbegyndt 1677, blev tegnet i senbarok stil af Solkongen Ludvig 14.'s foretrukne arkitekt Jules Hardouin Mansart, der også stod for fuldførelsen af Versaillesslottet.
Napoleons sarkofag er en rød porfyr sarkofag med Napoleons jordiske rester, der blev ført fra øen Sankt Helena til kirken i 1840, i 1861 var hans nuværende sarkofag færdig. Napoleon ligger i den inderste af de seks kister inden i hinanden, som sarkofagen indeholder.
De to kirker,

Invalidekirken

og Invalidedomen, var sammenbyggede og havde fælles alter, en glasrude adskiller nu kirkerne, foran ruden er et alter og en baldakin i en variation af Berninis baldakin i Peterskirken. Alteret får lys fra gule sideruder og virkningen illuderer sollys som symboliserer Austerlitzsolen: "Lige før klokken otte om morgenen lettede tågen fra slagmarken og afslørede at fjendens flankemarch var godt i gang. Napoleon stod på Zuranhøjen og så på solopgangen. Hist ude skinner Austerlitzsolen, et tegn på at dagen i dag skal blive en sejrsdag". Slaget ved Austerlitz fandt sted den 2. december 1805.

The Hôtel National des Invalides

,

designed by Libéral Bruant and built between 1671-76, was
commissioned by
Louis XIV
as hospital and a retirement home for war veterans
.
St Louis Cathedral
(Eglise Saint-Louis-des-Invalides).
Bruant's project was completed with a church for the soldiers/veteran's chapel.
The Dome
(Le Dôme des Invalides), the royal chapel, designed by Jules Hardouin Mansart (1646-1708), the Sunking's favourite architect.
T
he construction of chapel began in 1677
.
Napoleon's sarcophagus. A red porphyry sarcophagus, 1861, covers six coffins enclosing the body of Napoleon I, which was returned from Saint-Helena in 1840.

Notre Dame


Notre Dame, Vor Frue kirke i Paris

,

1163-1345

.

Det var biskop Maurice de Sully, der fik Ludvig 7. (1137-80) gjort økonomisk interesseret i opførelsen af en ny kirke til Vor Frue. I 1163 lagde pave Alexander 3. den første sten til kirken. Ca. 1250 stod tårnene færdige. Pierre de Montereau og Jean de Chelles har bygget sidekapellerne og forlænget tværskibet. Navnet på arkitekten, der tegnede kirken, kendes ikke.
Ca. 1345 stod kirken færdig. I dag er kun den Jomfru Maria-statue, der står foran den nordlige portal original og det eneste fra perioden, der overlevede Revolutionen, hvor det indre blev næsten totalt plyndret og større statuer udvendig blev knust. I kirkens skatkammer kan ses relikvier, en splint af Jesu kors, en Nagel og Tornekronen.
Kirken kan rumme 9000 mennesker.
I facaden ses tre gotiske portaler. Portalen til venstre er Jomfru Marias, den i midten er Dommedagsportalen og til højre portalen for Skt. Anna. Herover ses Kongegalleriet. Ovenover står Adam og Eva på hver side af den store roset, herover det store galleri.
Der har fundet kroninger sted i kirken. På Louvre kan Davids billede af Napoleons kroning i 1804 ses.
Victor Hugos "Klokkeren fra Notre Dame", 1831, beskriver livet i kirken.
Luis Bunuels film "Mælkevejen", 1968, er en uhyrlig og sjov satire om den kristne tros historie, om den katolske kirke og dens ritualer.
15. april 2019, Notre Dame er brændt. Spiret og hele taget er kollapset. De to tårne og det bærende skelet er reddet. Præsident Emmanuel Macron har lovet, at katedralen bliver genopført.

Notre Dame Cathedral (Church of Our Lady), 1163-1345, ranks as one of the greatest achievements of Gothic architecture.
On April 15, 2019, a fire engulfed the Notre Dame cathedral causing the collapse of the spire and servere damage inside and out.



Eiffeltårnet/
The Eiffel Tower


Eiffeltårnet, monument over Verdensudstillingen i 1889 af Gustave Eiffel. Udkast til pendant til Eiffeltårnet, Zoologisk Have, København, et projekt som ikke blev realiseret. Foto af Lars Peter Elfelt (1866-1931).
The Eiffel Tower was built for the World Fair of 1889, held to commemorate the centenary of the French Revolution, named after its designer Gustave Eiffel.


Arc de Triomphe

1-4
Triumfbuen på Place de l'Étoile for enden af Champs-Élysées, påbegyndt 1806 - fuldført 1836. Bestilt af Kejser Napoleon 1., efter sejren i Slaget ved Austerlitz i 1805, for at hylde den franske hær. Under buen er "Den ukendte soldats grav" til minde om de franske soldater, der faldt i 1. verdenskrig.

The Arc De Triomphe at Place de l'Étoile at the top of the Champs-Élysées, built between 1806 and 1836, commissioned by Emperor Napoleon I to honor the French army. The arch is the site of "The Tomb og the Unknown Soldier" from World War I.

5
Arc de Triomphe du Carrousel, den lille triumfbue, 1806-08, rejst af Kejser Napoleon 1. til minde om hans sejre, der er skildret i seks relieffer.

The Arc de Triomphe du Carrousel, 1806-08, built to commemorate Emperor Napoleon I's military victories.

Plakater/Posters


Maison de Victor Hugo


Victor Hugos hjem fra 1832-48. Hugos mest kendte værker er "Klokkeren fra Notre Dame" og "De elendige".´
Victor Hugo's house from 1832-48. Among his best-known works are "The Hunchback of Notre Dame" and "Les Misérables".

| | | | |
| --- | --- | --- | --- |
| | | | |
| | | | |
| | | | Pierre-Jean David d'Angers, 1838, "Victor Hugo". |
| Luc-Olivier Merson, 1903, "Une larme pour une goutte d'eau". | Albert Besnard, 1903, "La premiére d'Hernani (25 février 1830). | Ferdinand Roybet, 1903, "Don César de Bazan". | Gillot Saint-Evre, 1827, "Le Couronnement d'Inès de Castro". |
| | | | |
| | | | |

Menneskehedens Triumfbue/The Triumphal Arch of Mankind

Menneskehedens Triumfbue (Arc de Triomphe de l'Humanite), 1989, af den danske arkitekt Johan Otto von Spreckelsen (1929-1987). Spreckelsen vandt, sammen med professor Erik Reitzel, den internationale arkitektkonkurrence for La Defénse, som præsident Francois Mitterand udskrev i 1983, da han ønskede at skabe sammenhæng mellem Paris og forstaden La Defénse, der er et byområde, der blev planlagt af Pompidou, og navnet relaterer til krigen 1870-71, da franskmændene gav preusserne modstand her.
"Menneskehedens triumfbue" eller "Arche de la Défense", der er 106 m høj og har 36 etager, stod færdig i 1989 og rummer mødelokaler, kontorer og udstillingslokaler. Med den nye triumfbue blev der skabt en forbindelse mellem de gamle triumfbuer "Arc de Triomphe du Carrousell" og "Arc de Triomphe".

The Triumphal Arch of Mankind (Arc de Triomphe de l'Humanite/l'Arche de la Défense), 1989, by the Danish architect Johan Otto von Spreckelsen (1929-1987), who was professor at

The Royal Danish Academy of Fine Art in Copenhagen, worked for UNESCO in Turkey and became visiting professor in Ohio, USA.




In 1983 Spreckelsen won, together with professor Erik Reitzel, the international architectural competition

of La Defénse, arranged by the French president Francois Mitterand, who wanted to create a connection between Paris and the suburb la Defénse, an urban area planned by Georges Pompidou, the president of France from 1969 to his death in 1974. The name la Defénse related to the war 1870-71, when the French put up a strong resistance to their Prussian enemies. The Triumphal Arch of Mankind, a 106 meters high building with 36 storeys, was inaugurated in 1989 and contains offices and conference and exhibitions facilities. The Triumphal Arch of Mankind was the third in the row of triumphal arches starting with the Arc de Triomphe du Carrousel and the Arc de Triomphe.


D
iverse fotos
/
Miscellaneous photos

1-4
Bastillepladsen med Julisøjlen 1840-41 til minde om de dræbte under Julirevolutionen 1830.
Place de la Bastille with the July Column 1840-41 in memory of those killed during the July revolution of 1830.

1-3
Concordepladsen med Madelainekirken i baggrunden. Obelisken er fra Luxor og opsat på pladsen i 1836. Hieroglyfferne fortæller om Ramses 2.'s bedrifter.
The Place de la Concorde with the Luxor obelisk erected in 1836, decorated with hieroglyphs exalting the reign of the pharaoh Ramses II.
4
Vendomepladsen med Austerlitzsøjlen rejst af Napoleon 1820 og inspireret af Trajansøjlen i Rom.
The Place Vendome. Napoleon erected the column in 1820, modelled after Trajan's column in Rome, to celebrate The Victory at Austerlitz.

| | |
| --- | --- |
| 1-4 | Rådhuset/The City Hall. |


1-3
Operaen, 1875, indeholdende loftsmaleri af Marc Chagall/The Opera, 1875, containing ceiling painting by Marc Chagall.
4
Palais Royal, stålskulpturen der dekorerer fontænen er af den belgiske kunstner Pol Bury.
Palais Royal, the steel sculpture decorating the fountain is created by the Belgian artist Pol Bury.
5
Palais Royal, indre slotsgård, Cour d'Honneur (æresgården), de stribede søjler er af den franske kunstner Daniel Buren.
Palais Royal, the inner court yard, Cour d'Honneur (court of honour), the columns are created by the French artist Daniel Buren.

| | |
| --- | --- |
| 1-3 | Det Danske Hus på Champs-Elysées/The Danish House on the Champs-Elysées. |
| 4 | Galeries Lafayette er det største stormagasin i Europa/Galeries Lafayette is the largest department store in Europe. |


1
Galeries Lafayette er det største stormagasin i Europa/Galeries Lafayette is the largest department store in Europe.
2
La Sorbonne, Paris' Universitet, opkaldt efter Robert de Sorbon, der i 1257 oprettede et teologisk fakultet, beliggende i Latinerkvarteret (studenterne talte latin) på venstre Seinebred.
The Sorbonne University, named after Robert de Sorbon, who in 1257 founded the theological faculty, is located in the Latin Quarter (the students spoke Latin) on the Left Bank of the Seine.
3-4
Moulin Rouge, den røde mølle, Montmartre, åbnet som varieté i 1889, et vartegn for livsglæde, joie de vivre, og samlingssted for kunstnere bl.a. Toulouse-Lautrec, der har uddødeliggjort stedet med sine billeder derfra.
Moulin Rouge, the red mill, Montmartre, opened it doors in 1889. Moulin Rouge was a landmark of joie de vivre, and the most famous of the Parisian cabarets, immortalized on canvas by Toulouse-Lautrec.
5-6
Montmartre.

1
Luxemborgpalæet, 1615-21, opført til Marie af Medici, enkedronning efter Henrik 4. af Frankrig.
The Luxembourg palace, 1615-21, built for Maria de' Medici, the Queen Dowager of France, widow of King Henry IV.
2
Montparnassetårnet, kontorhus i 59 etager, 1973/Montparnasse Tower, a 59 storeys office block, 1973.
3
Café de Flore, hvor kunstnere og intellektuelle holdt til fra 1920'erne bl.a. Dali, Picasso, Miro, Eluard, Albert Camus, Jean-Paul Sartre og Simone de Beauvoir.
Café de Flore a hang-out for artists and intellectuals since the 1920s e.g. Dali, Picasso, Miro, Eluard, Albert Camus, Jean-Paul Sartre and Simone de Beauvoir.
4
Café le Dome

.

5
Café de la Paix.
6
Radio France.

1
Hallerne, navnet på en stor markedsplads, der blev revet ned i 1971 til fordel for et moderne indkøbscenter Forum des Halle.
Les Halles, the large central marketplace, which was demolished in 1971 to be replaced with a modern shopping precinct, the Forum des Halles.
2-5
Boulogneskoven/The Forest of Boulogne, Bois de Boulogne.

1
Madeleinekirken. Empire (fransk nyklassicisme). Påbegyndt 1806. Oprindeligt ærestempel for Kejser Napoleon 1.'s armé. Indviet som kirke i 1842.
The Madeleine Church, 1806-1842.
2-3
Sacré Coeur, "Det hellige hjerte" på Montmartre, indviet 1919. Foran kirken rytterstatuer fra 1927 af Ludvig 9. og Jeanne d'Arc.
Sacré Coeur, holy heart, Montmartre, inaugurated in 1919. In front of the church stands two equestrian statues from 1927 of Louis IX and Jeanne d'Arc.
4
Frederikskirken, den danske kirke/Frederiks Church, the Danish church.
5
Tårnet Saint-Jacques, inde i tårnet står en statue af Blaise Pascal (1623-1662), der her gjorde sine barometerforsøg. Selve kirken blev revet ned under revolutionen.
The tower of Saint Jacques, inside the tower there is a statue of Blaise Pascal (1623-1662), he carried out his barometer experiments here. The church was torn down during the revolution.

1-2
Saint Denis basilikaen, 1085-1143, den væsentligste kirke for den gotiske arkitekturstil.
The Cathedral of St Denis, 1085-1143, the first important example of Gothic architecture.
3
Saint Sulpice, der er kendt for sit orgel og fra Dan Browns bog "Da Vinci Mysteriet"/Saint Sulpice, known for its organ, and from Dan Brown's novel "The Da Vinci Code".
4
Notre Dame des Champs.
5
Panthéon Mausoleum, tempel for Frankrigs store personligheder/Pantheon, a mausoleum.

| | |
| --- | --- |
| 1 | Saint-Etienne-du-Mont, 1600-tallet. Facaden er speciel med sine tre gavlpartier/The Church of Saint-Etienne-du-Mont, 1700th century. The Facade is very special with its three gables. |
| 2 | Kirken Saint-Merri (Église Saint-Merri, e. Den hellige Medericus)/The Church of Saint-Merri (Église Saint-Merri, after St Medericus). |

1-5
Louvre museet. Louvre, der fremstår tempelagtig, var Ludvig 14.'s første residens indtil han i 1682 flyttede sit hof til Versailles.

Glaspyramiden i Louvres indre slotsgård, 1985-89, er tegnet af den kinesisk-amerikanske arkitekt Ieoh Ming Pei.
The Louvre Museum. King Louis XIV resided at Louvre until 1682, when he moved his court to Versailles.
The Louvre Pyramid, 1985-89, is designed by the Chinese-American architect Ieoh Ming Pei.


1-3
Musée d'Orsay, grundlagt 1986, er en ombygning af d'Orsay banegården. Kernen i museets samling er fransk kunst fra midten af 1800-tallet til begyndelsen af 1900-tallet.

Musée d'Orsay, established 1986, is housed in the former railway station, Gare d'Orsay. The collection focuses on French art from the mid-19th century to the early 1900s.

4-5
Picasso Museet med Picassos private kunst- og skulptursamling/Musée Picasso.

1
Petit Palais - Musée des Beaux-Arts de la ville de Paris.
2-3
Grand Palais - udstillingshal/Exhibition hall.
4
Marmottan Museet i Rue Louis-Boilly ved Bologneskoven. Her er først og fremmest malerier af Claude Monet.

Musée Marmottan, Rue Louis-Boilly, known as Musée Marmottan Monet, houses a large collection of works by Claude Monet.

1
Rodin Museet med Rodins private malerisamling/Musée Rodin.
2
Musée de l'Orangerie/Collection Jean Walter et Paul Guillaume.
3
Kostumemuseet med folkedragter og civile franske uniformer fra 1735 til nu.
The Museum of Costume.
4
Delacroixs atelier i Rue de Fürstenberg. Delacroix boede i huset til sin død i 1863.
Delacroix's studio.
5
Rytterstatue af George Washington, 1900, udført af den amerikanske billedhugger Daniel Chester.
Equestrian statue of George Washington, 1900, by the American sculptor Daniel Chester.
6
Venus fra Milo, Louvre, blev fundet i to stykker under pløjning af en mark på øen Milo i 1820 af en bonde ved navn Yorgos. Venus er et af Louvres klenodier.
The Venus de Milo, Louvre, is an ancient Greek statue and one of the most famous pieces of ancient Greek sculpture. Venus was found in two pieces in 1820 on the island Milo by a peasant named Yorgos.
7
Nike fra Samotrake, Louvre, den vingede sejrsgudinde.
Nike of Samothrace, Louvre, The Winged Victory of Samothrace.

1

Kopi af

Frihedsgudinden, Pont de Grenelle, foræret til byen i 1885 af amerikanere bosiddende i Paris, den originale udgave i New York var en gave fra det franske folk til det amerikanske folk som påskønnelse for det venskab, som blev etableret under den amerikanske revolution.

Statuen symboliserer frihed og demokrati. Se

Auguste Frédéric Bartholdi

.


A small replica of

the Statue of Liberty

.

In 1885, Americans living in Paris offered the small Statue to the city. The people of France gave the original Statue of Liberty to the citizens the United States in recognition of the friendships established during the American Revolution. The statue symbolizes freedom and democracy. See

Auguste Frédéric Bartholdi

.

2-3
Stravinsky springvandet ved Pompidoucentret udført af Jean Tinguely og Niki de Saint Phalle i 1983.
The Stravinsky Fountain at the Georges Pompidou National Center for Art and Culture created by Jean Tinguely and Niki de Saint Phalle in 1983.
4
"Balzac" udført af Rodin på Boulevard Raspail/"Balzac" by Rodin on Boulevard Raspail.

Gader i Paris/Streets of Paris



Se fotos fra Versailles/See photos of Versailles
Solkongens slot, Versaillesanlægget, blev i 1670 planlagt af Ludvig 14. Versailles er et kulisseanlæg, tragtformet indføring mod centrum, barokkens teatralske udtryk. Anlægget er et Gesamtanlæg og således strengt aksesymmetrisk. Museum fra 1837.
The palace of Versailles, the home of the Sun King, it remained the residence of the royal family until the Revolution of 1789.

1-2
Solkongens slot, Versaillesanlægget/The palace of Versailles, the home of the Sun King.
3-4
Versailles Spejlgalleri med høje rundbuevinduer, der giver lys. Krigs- og fredssalon for enden med Le Bruns loftsmaleri om Ludvig 14.'s berømmelse i krig og fred. Kongen lod teksten forfatte til billederne, der fik en propagandistisk funktion. Kun ved usædvanlige lejligheder blev galleriet og salonen brugt f.eks. til fest, bal og udenlandske besøg.
Versailles, the Hall of Mirrors.
5

Vor Frue Kirke i Versailles, 1686, tegnet af Ludvig 14.'s foretrukne arkitekt Jules Hardouin-Mansart. Selvom Versaillesslottet havde sit eget kapel besluttede Ludvig 14. at den voksende by Versailles skulle have sin egen kirke. Af skriftlige kilder omhandlende kirken fremgår, at medlemmer af den kongelige familie er blevet døbt og gift i kirken og begravet fra kirken.
The Church of Notre Dame, Versailles, 1686, is designed in Neoclassical style by Louis XIV's favourite architect Jules Hardouin-Mansart.

1
Grand Trianon af Mansart i slotsparken, fritidsbolig for kongen, der forærede begge Trianoner til Marie Antoinette, der foretrak Petit Trianon.
2
Petit Trianon af Gabriel i slotsparken, mindre fritidsbolig for kongen. Køkkenet var under spisestuen og spisebordet kunne sænkes ned i køkkenet og blive dækket der, svarende til taffelmaskine

n

på Eremitageslottet i Dyrehaven.
3
Lysthus i slotsparken.
4-5
Versailles haveanlæg er tegnet af André Le Nôtre og består af skulpturer, fontæner og kaskader. Den regelmæssige havestil blev forbillede for barokhaver, som nåede højden med Ludvig 14.

1-3
Palace Abraxas "Versailles for folket", et socialt boligbyggeri fra 1980'erne i udkanten af Paris i Noisy le Grand. Den spanske arkitekt Ricardo Bofill har tegnet byggeriet i hyperklassicistisk stil inspireret af nyklassicismen. Man må gerne tro, at Palace Abraxas er bygget i slutningen af 1700-tallet.
Palace of Abraxas "The People's Versailles" social housing estates built in the eighties in Noisy le Grand outside Paris. The Spanish architect Ricardo Bofill has designed the buildings in hyperclassical style influenced by Neoclassicism.
4
Les Arenas du Lac i Saint Quentin, Yvelines, tegnet af den spanske arkitekt Ricardo Bofill.
Les Arenas du Lac in Saint Quentin, Yvelines, designed by the Spanish architect Ricardo Bofill.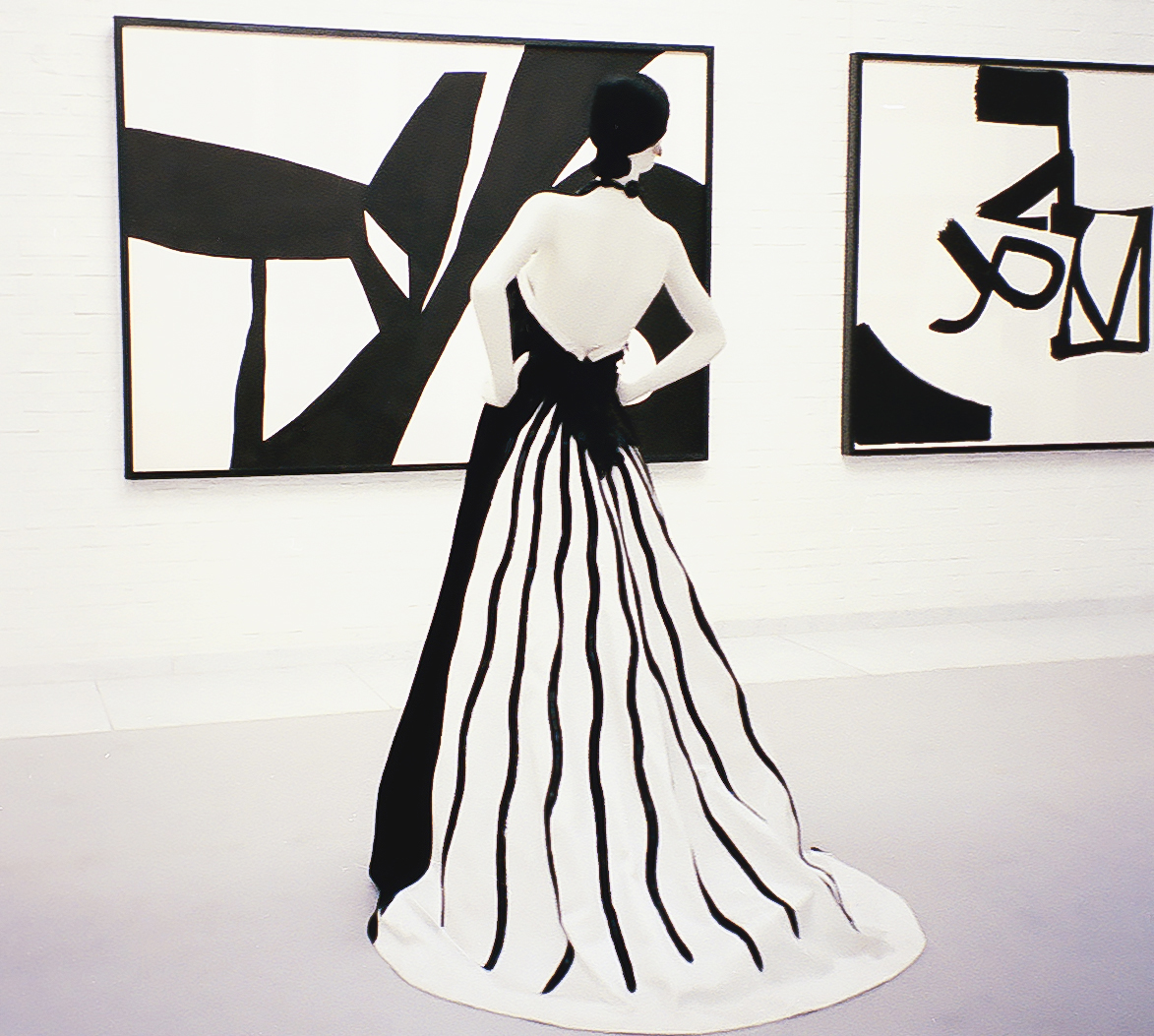 Udstilling af Erik Mortensens kreationer på Nordjyllands Kunstmuseum (nu "KUNSTEN Museum of Modern Art Aalborg"),

28. maj til 27. august 1989

.

Erik Mortensen bestemte selv hvilke kunstværker han ville have sat op sammen med sin udstilling af houte couture.

Exhibition of haute couture by Erik Mortensen, North Jutlands Museum of Art, Aalborg (today "KUNSTEN" Museum of Modern Art Aalborg),
May 28 - August 27, 1989.

Erik Mortensen (1926-1998). Dansk haute couture designer født i Frederikshavn, død i Paris.
Mortensen blev uddannet hos Holger Blom i København, og kom til Pierre Balmain i 1948, og 2 år senere blev han Balmains højre hånd, fra 1982-1992 var Mortensen chef for huset Balmain.
I 1983 fik han tildelt den franske haute couture pris "Det gyldne fingerbøl" for sin efterårs- og vinterkollektion 1983-1984, og igen i 1987 for sin efterårs- og vinterkollektion 1987-1988. I 1992 forlod han huset Balmain til fordel for huset Jean-Louis Scherrer, som han ledede til 1994.
Mortensens mor Alma var modist, han opkaldte en parfume efter hende. I 1987 udkom hans erindringer "Ej blot til pynt: et livsstykke", og i 2001 udkom Lone Bastholms bog "Erik: en bog om Erik Mortensen", Gyldendal.

Erik Mortensen (1926-1998). Danish haute couture designer, he was born in Frederikshavn, Jutland, and he died in Paris. Mortensen was trained under the Danish couturier Holger Blom in Copenhagen and began his international career in 1948 with Pierre Balmain, two years later he became Balmain's right hand and took over the management of the firm after Pierre Balmain's death in 1982 and run the house until 1992, where he left the House of Balmain for the house of Jean-Louis Scherrer, which he managed until 1994. In 1983 and 1987 Mortensen was awarded the French haute couture award "The Golden Thimble".

| | |
| --- | --- |
| 1-5 | Angiver billederne i baggrunden/are the names of the artists and the titles of the paintings in the background. |
| 1 | Salomé/Castelli, "Tiere". |
| 2 | J.F. Willumsen, "Krigsinvalider", 1928/J.F. Willumsen, "Disabled. Servicemen", 1928. |
| 3 | Kaoru Hirabayashi, "Installation over caracters from the Chinese written languages Kanji and Hiragana". |
| 4 | Knud Hvidberg. |
| 5 | Geoffrey Hendricks, "Sky to the west". |

Huset Balmain, blev grundlagt af Pierre Balmain (1914-1982) på rue Francois 1er i 1945 lige efter krigens afslutning.
The House of Balmain, founded by Pierre Balmain (1914-1982) on rue Francois 1er in 1945 immediately after the war.